Over a thousand people participated in NLIHC's June 30 Summer of IDEAS (Inclusion, Diversity, Equity, Anti-racism, and Systems-thinking) launch event featuring Jeffery Robinson, executive director of The Who We Are Project, and Khalil Gibran Muhammad, professor of history, race, and public policy at Harvard's Kennedy School, co-host of Some of My Best Friends Are, and author of The Condemnation of Blackness. As they discussed the film Who We Are: A Chronicle of Racism in America, Professor Muhammad and Jeffery Robinson provided historical facts and personal stories to draw a stark timeline of anti-black racism in the U.S., from slavery to the modern myth of a post-racial America.

In the film, Mr. Robinson shows us how legalized discrimination and state-sanctioned brutality, murder, dispossession, and disenfranchisement continued long after slavery ended, profoundly impeding Black Americans' ability to create and accumulate wealth as well as to gain access to jobs, housing, education, and health care. Weaving heartbreak, humor, passion, and rage, Mr. Robinson's words lay bare an all-but-forgotten past, as well as our shared responsibility to create a better country.
During the conversation with Professor Muhammad, Jeffery Robinson recounts how, before making the film, he was ignorant of the racist history of the U.S. He shared how initially he was angry at himself for not knowing more of this history but then coming to the realization that, "we [Black and Brown people] were taught something radically different than the truth about our history and it wasn't by accident; it was deliberate." Robinson shared an encounter he had with Former Alabama Senator Hank Sanders—standing at the bottom of the Edmund Pettus Bridge—who told him, "That's how deeply white supremacy runs in the United States."
Professor Muhammad shared how his journey of becoming a historian of race and racism began through witnessing the beating of Rodney King in 1991. "It fundamentally changed my sense of place in the world," said Professor Muhammad. "I didn't understand how this could happen when nothing in my formal education had prepared me for [it]."
Professor Muhammad discussed how all of us are socialized to one degree or another. In the 1980s, when he was growing up, the dominant messages where, "America is the greatest nation on earth; people succeed by their individual merits; there's no structural racism; and the Civil Rights movement solved all of our problems." Professor Muhammad noted that Who We Are: A Chronicle of Racism in America powerfully counters these dominant mainstream messages by showing the pervasive and destructive nature of structural racism.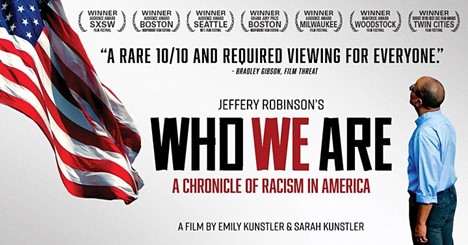 Both Jeffery Robinson and Professor Muhammad spoke at length about the importance of learning history. Professor Muhammad told the audience that when you "learn the history of race and racism, you will be different. . . . You may not act differently," he said, "but your brain will recognize new information, and you will have to wrestle with that new information as you act on your beliefs, or you continue to do the same things."
Professor Muhammad and Jeffery Robinson discussed how housing discrimination is the cornerstone of wealth creation for America's white middle classes. Mr. Robinson told a story of how his family experienced redlining and discrimination in 1969 while trying to purchase a home in Memphis, Tennessee.
Professor Muhammad reminded the audience that the wealth disparities we see today are not just a consequence of exclusion but also a consequence of what Ta-Nehisi Coates describes as "plunder and theft." Professor Muhammad then asserted, "It's not just the plunder, theft, and exploitation. It's not just the exclusion that redlining represents. It's also the redistribution of tax dollars and monies to white communities as a direct cash or land transfer to ensure that there would be a middle class . . . so that capitalism could function in a way that wouldn't be threatened by extreme stratification and inequality."
"Structural racism," Professor Muhammad asserted, "is not just what happens to Black people, it is what happens for white people." 
This event is part of the NLIHC's Summer of IDEAS series which pairs narrative projects with discussions on topics such as housing disparities, race and poverty led by preeminent voices in these areas. Additional events are scheduled as follows:
Sunday, July 17, at 3:00 pm ET: A virtual screening of the film A Reckoning in Boston and a discussion with co-producer Kafi Dixon.
Thursday, August 4, at 3:00 pm ET: A virtual discussion about the Pulitzer Prize-winning book Invisible Child: Poverty, Survival and Hope in an American City with Andrea Elliott (the book's author), Chanel Sykes (an advocate and mother featured in the book), and James Perry (president and CEO of the Winston-Salem Urban League). The conversation will be moderated by Melissa Harris-Perry, the Maya Angelou Presidential Chair at Wake Forest University.
To learn more about or register for these upcoming events, visit: www.summerofideas.org
View a rebroadcast of the conversation between Professor Khalil and Jeffery Robinson here: https://bit.ly/3OS572s
Visit the Who We Are Project here: www.thewhoweareproject.org
Listen to Professor Muhammad's Podcast Some of My Best Friends Are here: https://bit.ly/3PhqsCu