Join us once again in a national call to end the affordable housing and homelessness crisis! Our Homes, Our Voices National Housing Week of Action 2020 will take place May 2-12.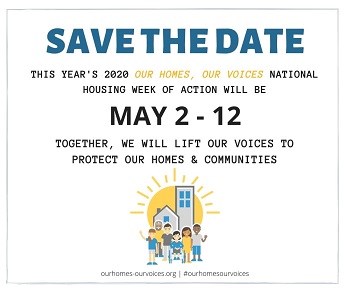 Congress passed a two-year budget deal in 2019 to lift the spending caps on defense and domestic programs, but that doesn't mean housing advocates' work is done. We must organize more than ever to ensure that HUD and USDA Rural Housing programs receive the highest possible funding in 2021 and beyond, and to keep raising the issue of the affordable housing and homelessness crisis as we head into the tremendously consequential November elections.
For the fourth year in a row, NLIHC and partners in the Campaign for Housing and Community Development Funding will hold the Our Homes, Our Voices National Housing Week of Action with advocates across the country. This year, we're inviting our partners in the Our Homes, Our Votes: 2020 campaign to also participate in the week of action! The Week of Action will be held from May 2 to May 12, with plenty of opportunities to engage members of Congress while they are in home districts as well as days for mobilization while Congress is in session.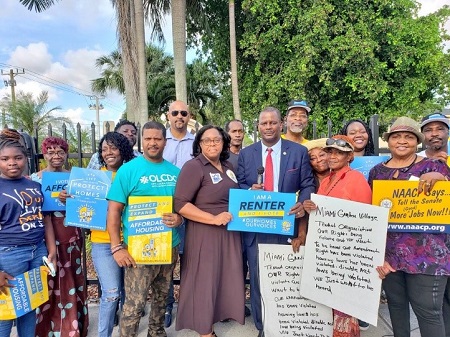 | | |
| --- | --- |
| | |
Week of Action events each year range from large-scale rallies and film screenings, to smaller events such as panel discussions, letter-writing to members of Congress, policy-maker tours of housing developments, voter registration activities, and more. Unite with communities throughout the country calling on Congress for increased investments in essential housing development and homeless services and/or engaging candidates and voters in the 2020 elections.  Register your event or learn more about Week of Action at: www.ourhomes-ourvoices.org
Thank you for your partnership in Week of Action!