Why Affordable Housing Groups Should Engage in the Election
Affordable homes are built with bricks and dry wall. They are also built with ballots. Yet low-income renters turn out to vote at much lower rates than homeowners. In turn, federal housing policies favor homeownership: only 1 in 4 households eligible for federal housing assistance receives it, while mortgage tax benefits are available to most homeowners. 
While renters with low incomes can make a huge difference in elections and create a policy environment that is supportive of housing justice, low-income renters face barriers to having their voices heard. Low-income renters move more often. This means their voter registrations must be updated more frequently than homeowners. Many face difficulties getting to the polls due to transportation or time constraints. This is all complicated by efforts to suppress the votes of low-income people, people of color, students, senior citizens, and persons with disabilities – groups that are disproportionately represented among renters.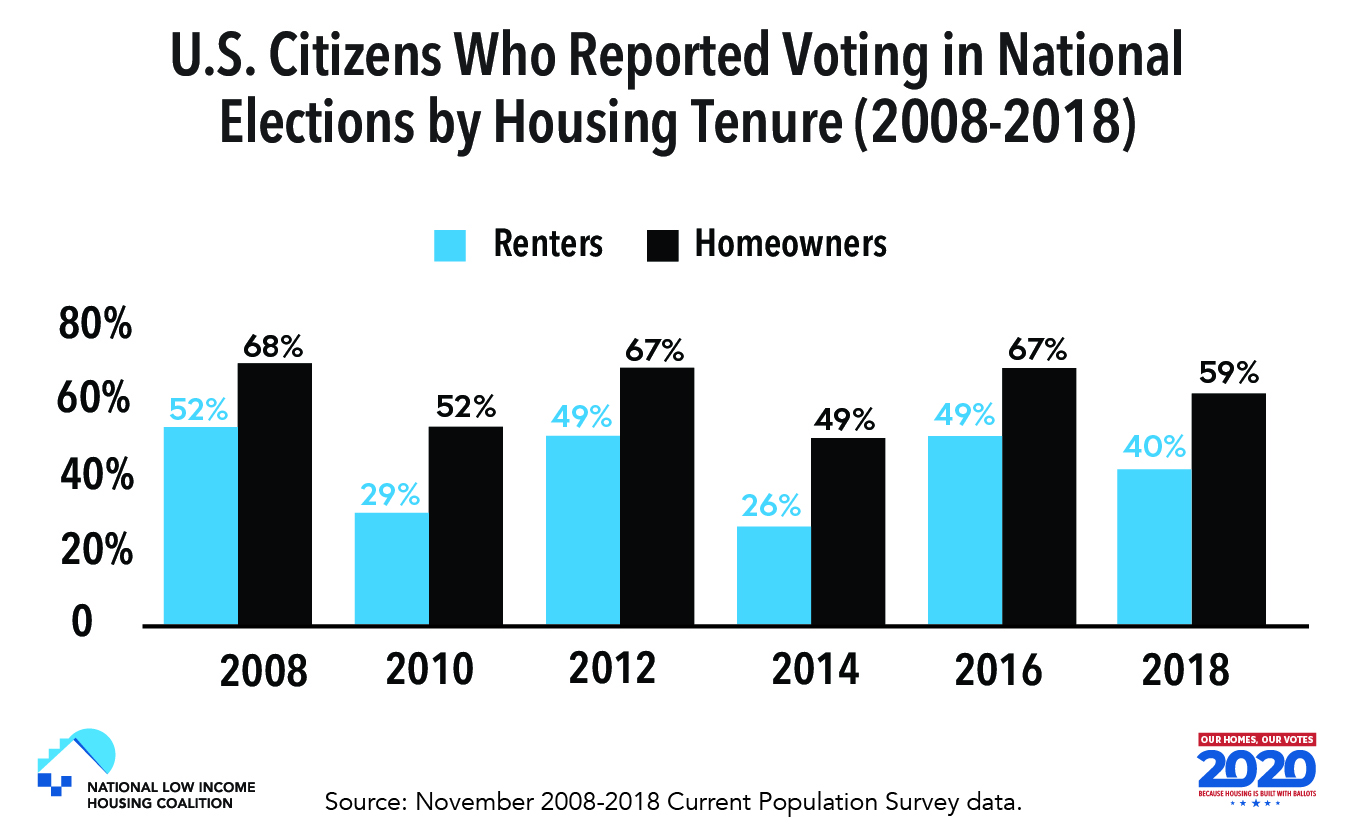 Nonprofit organizations, resident associations, and other housing advocates should play a significant role in addressing the barriers that impact low-income renters' ability to vote. These groups are already engaged with low-income renters and care about issues impacting low-income communities. Through nonpartisan voter registration, education, and mobilization efforts, these groups can increase voter turnout. 
We are stronger as a country when we all participate in the voting process. While voting is not the only tool we have to secure housing as a human right, it is a crucial one. Elevating the issue of affordable rental housing to a national priority will happen only when candidates and elected officials see low-income renters and affordable housing advocates as a large, active voting bloc.  
Join us in our commitment to increasing voter registration and turnout of low-income renters in the 2020 election by getting involved in the nonpartisan Our Homes, Our Votes: 2020 campaign today at www.ourhomes-ourvotes.org