Housing Stability Can't Wait. Tell Congress
NLIHC is advocating for a broad array of housing resources and protections - including $100 billion in emergency rental assistance, a national moratorium on evictions and foreclosures, and $11.5 billion to protect people experiencing homelessness, as well as support for public housing authorities and housing providers, among other recommendations - in the possibly final coronavirus relief package. Use any of the following resources to build awareness around the importance of including housing provisions in the next bill.
Media Toolkit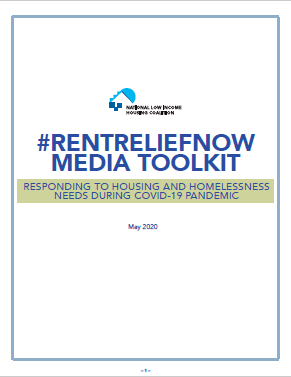 Sample Social Media Posts

Sample Social Media Posts

Research shows that reporters and policymakers use social media as a resource for news and issues to track, and this is especially true during this pandemic. Amplify key messages and talking points on social media platforms such as Twitter, Facebook, and Instagram. Use #RentReliefNow, #HousingStability

​

Sample Social Media Images

Sample Social Media Images

DOWNLOAD shareable images and include these images with your posts on social media.

​

Sample Op-Ed

Sample Op-Ed (776 words)

Pitch an Op-Ed to your local outlet explaining your support for housing provisions in the next bill. Word limits vary by outlet but are typically between 700 and 900. CLICK HERE for additional resources to help strengthen an Op-Ed.

---

Congress Must Provide Emergency Rental Assistance to Protect [STATE RESIDENTS] Experiencing a Financial Shock during Pandemic

The economic fallout of the coronavirus pandemic threatens to significantly exacerbate housing instability and homelessness throughout the U.S., including in [STATE]. Congress must take bold action to help people already struggling to make ends meet by including emergency rental assistance in the next coronavirus-response package.

Even before coronavirus, far too many of America's lowest-income households—seniors, people with disabilities, low-wage workers—were just one financial shock away from falling behind on their rent and threatened with eviction, and in worst cases, homelessness. With too many renters living paycheck-to-paycheck, a broken-down car, a sick child, or missed days at work can put someone at imminent risk of losing their home. According to the National Low Income Housing Coalition (NLIHC), nearly 11 million households – primarily renters with low incomes – pay more than half of their limited incomes on rent, leaving very little for other basic needs such as groceries, childcare, or medicines. Affordable housing was already out of reach for millions of people, and the economic disruption they are currently experiencing because of coronavirus adds to the many nearly insurmountable challenges low-income renters were already trying to navigate. They are at extreme risk of joining the more than a half-million people who on any given night in America have no home at all, unable to "shelter in place."

Before coronavirus, there were only [# OF AFFORDABLE HOMES AVAILABLE] rental homes affordable and available for every 100 of the lowest-income renters in [STATE]. Working at the minimum wage of [STATE MINIMUM WAGE] per hour in [STATE], a wage earner needed to work [#FULL-TIME JOBS AT MINIMUM WAGE] full-time jobs or [#WORK HOURS PER WEEK AT MINIMUM WAGE] hours per week to afford a modest one-bedroom apartment. They must work [#FULL-TIME JOBS AT MINIMUM WAGE] full-time jobs or work [#WORK HOURS PER WEEK AT MINIMUM WAGE] hours per week to afford a two-bedroom apartment. The reduction in wages or lost jobs millions of low-wage workers are experiencing during the pandemic will be catastrophic, unless Congress acts immediately to provide emergency rental assistance.

The CARES Act was an important first step but did not provide the resources needed to prevent low-income renters from losing their homes. In the last month, an unprecedented [#OF PEOPLE IN STATE] have applied for unemployment insurance (UI) benefits, but many are being locked out of the process. An estimated 8.9 to 13.9 million people nationally have been unable to use their UI, and only approximately half of all people who qualify for unemployment are receiving benefits. And for those who do receive UI, the benefits – which vary from state-to-state - are often insufficient to relieve the housing cost burdens of the lowest-income households.

For far too long, Congress has underfunded critical, income-targeted programs such as the national Housing Trust Fund, Housing Choice Vouchers, and programs to repair public housing, worsening the nation's affordable housing crisis. They must act now to mitigate the economic shock millions of Americans are currently facing due to coronavirus. NLIHC estimates that [AMOUNT NEEDED] in emergency rental assistance is needed in [STATE] to keep families stably housed. At least $100 billion is needed nationally. Senator Sherrod Brown (D-OH), Representatives Maxine Waters (D-CA), Denny Heck (D-WA) and more than 39 other original cosponsors in the Senate and 155 original cosponsors in the House, introduced the Emergency Rental Assistance and Rental Market Stabilization Act to invest that level of funding for such emergency rental assistance. This proposal has since been incorporated into the HEROES Act introduced by Speaker Pelosi. Cosponsors of this bill must continue to champion these critically important proposals in negotiations and work to ensure that Congress include them in the next legislative package.

It is not just housing advocates calling for emergency rental assistance. Leaders in health, education, hunger, faith, civil rights, environmental protection, and others are calling for the same. Groups like [2 NON-HOUSING GROUPS IN OR AROUND YOUR STATE THAT SIGNED THE OSAH LETTER] understand that stable housing is the foundation for one's wellbeing and is desperately needed now.

At a time when our collective health depends on people's ability to stay at home, it has never been clearer that housing is healthcare. Without emergency rental assistance, we will likely see even more people become homeless or be forced to double or triple up with other families. Overcrowding of households, sleeping in congregate shelters and living outside under the elements all lead to increased infections. Lives are at risk.

During this pandemic, the least Congress must do is ensure everyone is stably housed. This is not just an economic necessity, but a moral and health imperative. We must protect those who are most at risk during this pandemic.