About the Report
Out of Reach documents the significant gap between renters' wages and the cost of rental housing across the United States. The report's central statistic, the Housing Wage, is an estimate of the hourly wage a full-time worker must earn to afford a modest rental home at HUD's fair market rent (FMR) without spending more than 30% of their income on housing costs, the accepted standard of affordability. The FMR is an estimate of what a family moving today can expect to pay for a modestly priced rental home in a given area.
Housing Is Out of Reach
As temporary housing policy measures implemented amid COVID-19 come to an end, renters are facing a troubling landscape, with rising rental prices putting decent and affordable homes even further out of reach. As the public health dangers and economic hardship associated with COVID-19 gradually recede, low-income renters will continue to face housing instability until permanent solutions to widespread housing unaffordability are enacted.
In 2022, a full-time worker needs to earn an hourly wage of $25.82 on average to afford a modest, two-bedroom rental home in the U.S. This Housing Wage for a two-bedroom home is $18.57 higher than the federal minimum wage of $7.25. In 11 states and the District of Columbia, the two-bedroom Housing Wage is more than $25.00 per hour. A full-time worker needs to earn an hourly wage of $21.25 on average in order to afford a modest one-bedroom rental home in the U.S.
Renters with the lowest incomes face the greatest challenge in finding affordable housing. The average minimum wage worker must work nearly 96 hours per week to afford a two-bedroom rental home or 79 hours per week to afford a one-bedroom rental home at the average FMR. In no state can a person working full-time at the prevailing federal, state, or county minimum wage afford a two-bedroom apartment at the FMR. In only 274 counties out of more than 3,000 nationwide can a full-time worker earning the minimum wage afford a one-bedroom rental home at the FMR.
In most areas of the U.S., a family of four with poverty-level income can afford a monthly rent of no more than $694 and many cannot even afford that. An individual relying on SSI in most parts of the country can only afford a rent of $252 per month. The national average fair market rent for a one-bedroom home is $1,105 per month and $1,342 for a two-bedroom home, far from affordable for a family in poverty or a person relying on federal assistance.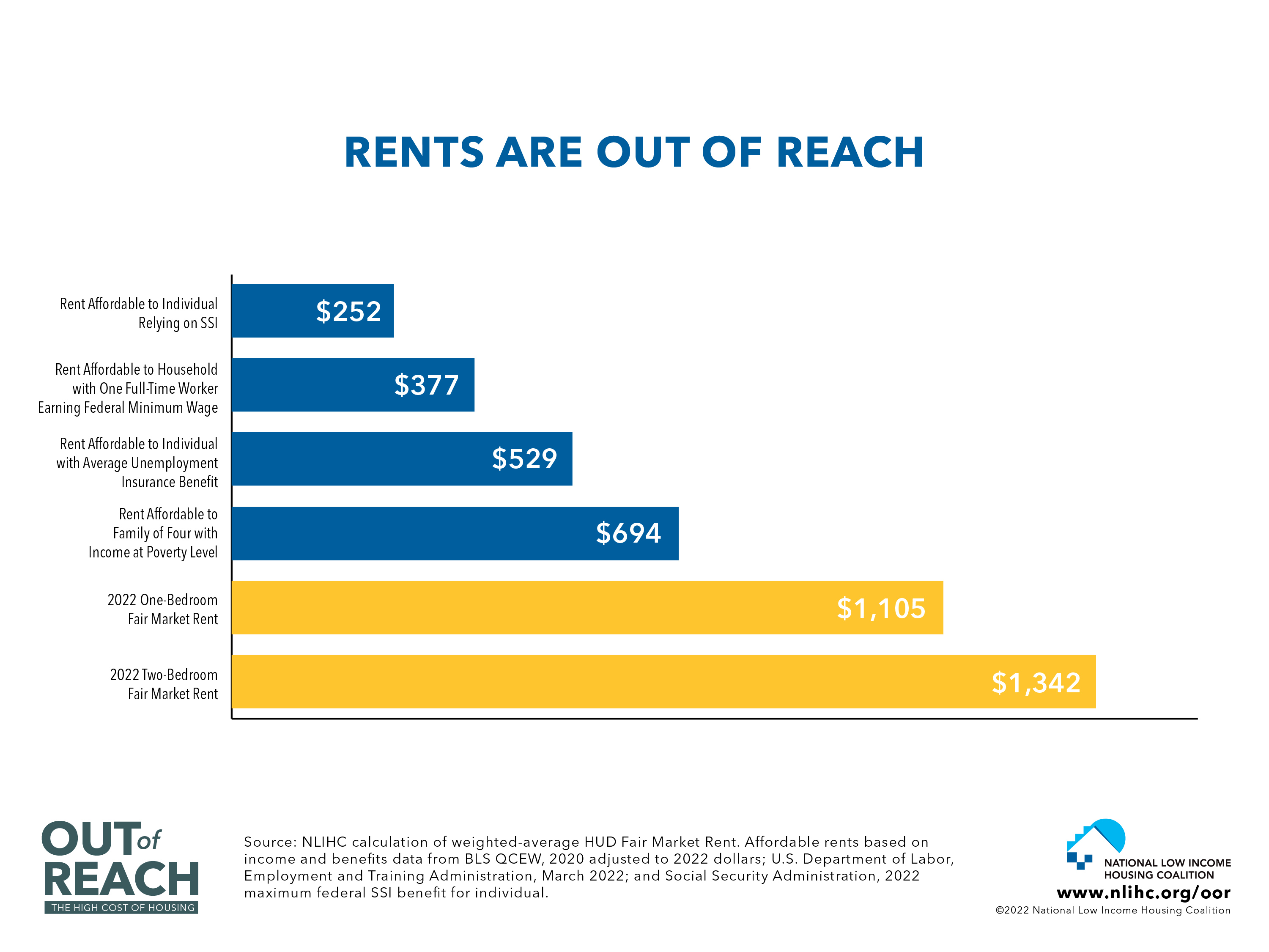 ​
​
The Federal Policies Needed to End the Housing Crisis
Addressing the roots of the housing affordability problem requires a sustained commitment to investing in new affordable housing, preserving affordable rental homes that already exist, bridging the gap between incomes and rent through universal rental assistance, providing emergency assistance to stabilize renters when they experience financial shocks, and establishing strong renter protections.
First, Congress must invest in solutions to expand and preserve the supply of affordable housing. This includes expanding the Housing Trust Fund to build and preserve affordable housing, as well as investing directly in public housing capital repairs. Second, Congress should expand access to rental assistance to every eligible household in need. Universal rental assistance could be achieved by fully funding the Housing Choice Voucher program. Third, Congress needs to create a permanent national housing stabilization fund to provide financial assistance to families who experience a sudden and temporary financial setback. Fourth, Congress must strengthen and enforce renter protections. These protections include providing legal counsel to renters facing eviction and prohibiting the reporting of rental debt on consumer reports. Renter protections are also needed to ensure homes are safe, healthy, and accessible.
As the country faces record rent increases and rising evictions, it is more important than ever to make these meaningful and long-lasting structural changes to ensure low-wage workers and the most marginalized people have stable, affordable homes.