Out of Reach Press Contact and Kit
Please complete the information below to receive press updates on NLIHC's Out of Reach.

The presskit (English|Spanish) contains images from Out of Reach that can be used online or in print. Permission to reprint all or some of the images is granted, provided appropriate credit is given to the National Low Income Housing Coalition (NLIHC). All images are copyright of NLIHC.

For questions regarding media coverage and reprints, please contact Jen Butler, Senior Director, Media Relations and Communications, [email protected], 202-662-1530 x239.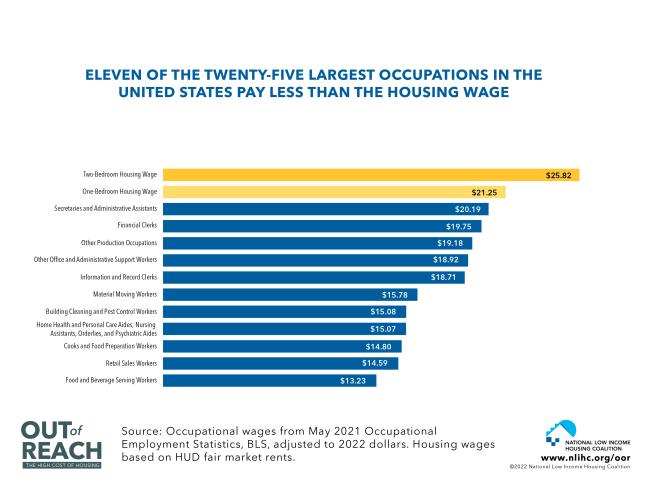 ELEVEN OF THE TWENTY-FIVE LARGEST OCCUPATIONS IN THE UNITED STATES PAY LESS THAN THE HOUSING WAGE
Chart shows significant occupations with median hourly wages that fall below the national one- and two-bedroom housing wage. All of these occupations are included in the 25 largest occupations in the country.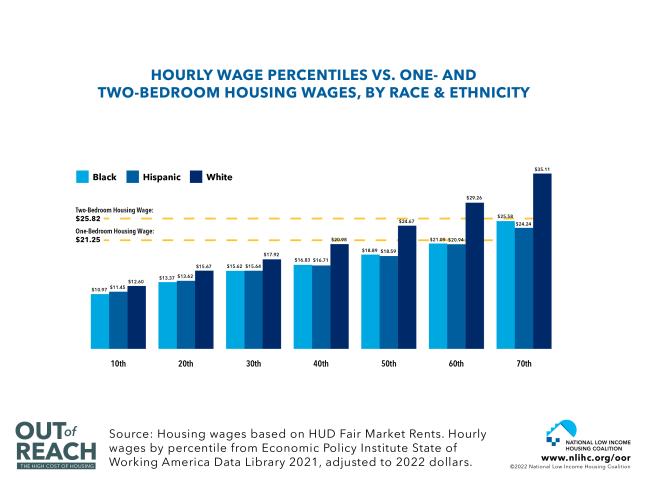 HOURLY WAGE PERCENTILES VS. ONE- AND TWO-BEDROOM HOUSING WAGES, BY RACE & ETHNICITY
Chart shows wages earned by percentile for white, Black, and Hispanic workers compared to the one- and two-bedroom housing wage. The median Black and Hispanic worker earn approximately $6.00 less per hour compared to the median white worker.