Federal

NLIHC is utilizing the information and experiences we are collecting from our research and our work with state and local partners to advocate for program improvements and tenant protections that would support successful implementation and sustainability of emergency rental assistance.
Letter to Treasury: ERA Reallocation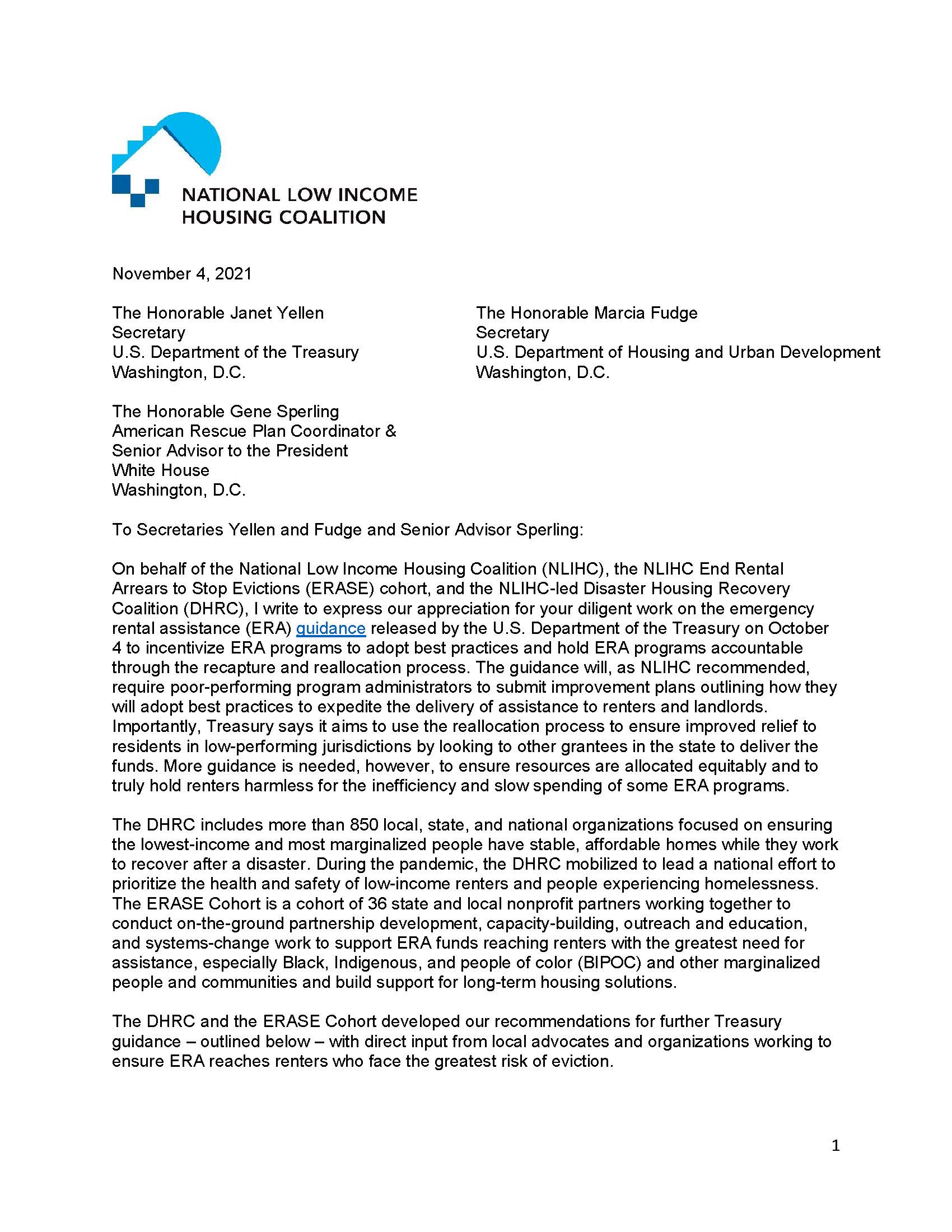 On behalf of NLIHC, the NLIHC End Rental Arrears to Stop Evictions (ERASE) cohort, and the NLIHC-led Disaster Housing Recovery Coalition, NLIHC President and CEO Diane Yentel sent a letter on November 4 to U.S. Department of the Treasury Secretary Janet Yellen urging the department to issue further guidance on the Emergency Rental Assistance (ERA) reallocation process to ensure resources are allocated equitably and to truly hold renters harmless for the inefficiency and slow spending of some ERA programs.

 Click Here to View the Interactive PDF of the Report.
Letters to Biden: NLIHC Eviction Lab Treasury Data NLIHC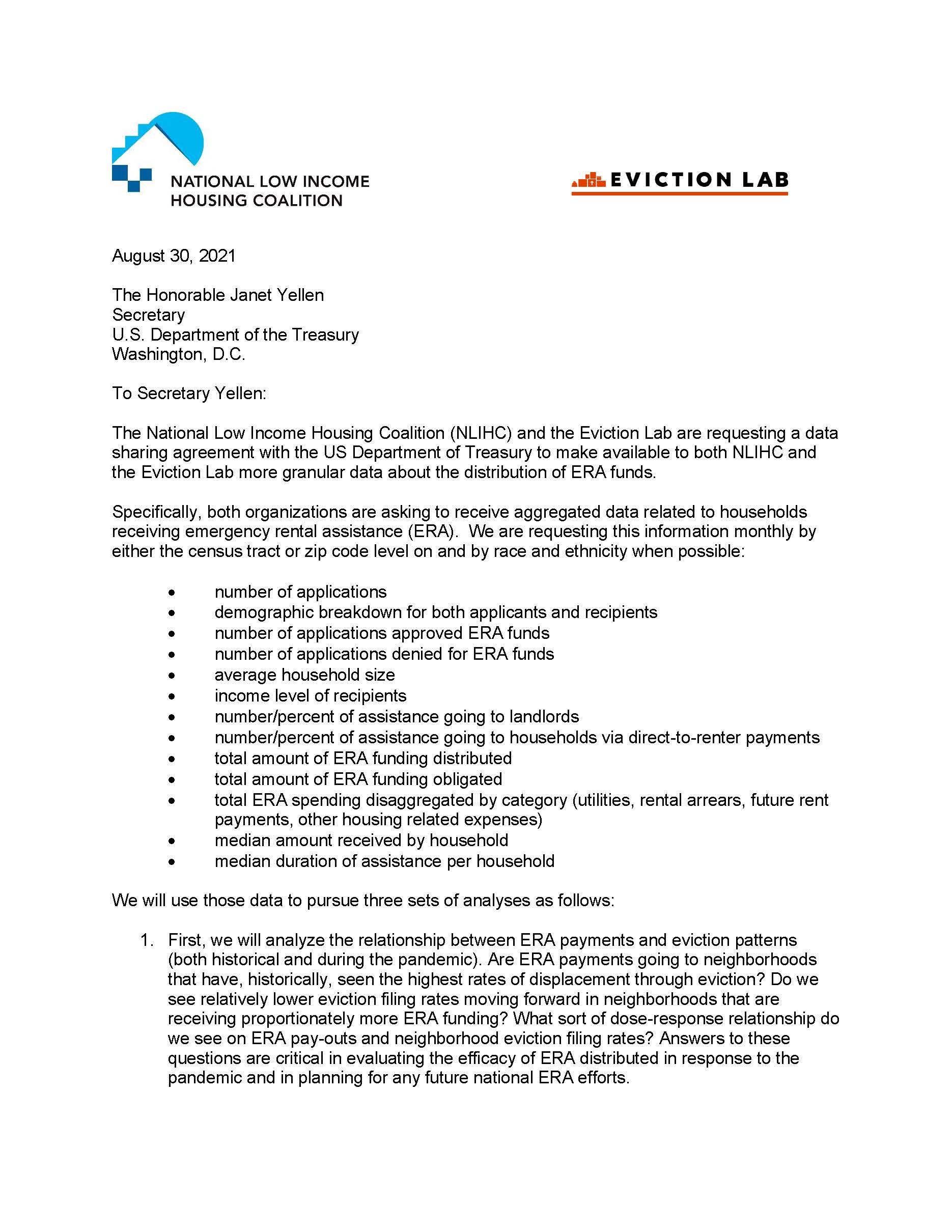 NLIHC and the Eviction Lab sent a joint letter to Secretary Janet Yellen on August 30, requesting a data sharing agreement with the US Department of Treasury. Specifically, NLIHC and the Eviction Lab requested monthly aggregated data related to households receiving emergency rental assistance (ERA), so the organizations can analyze the relationship between ERA payments and eviction patterns (both historical and during the pandemic), analyze the neighborhood racial characteristics of ERA distribution, and further examine the relationship between program elements (i.e. self-attestation or direct-to-tenant assistance) and ERA distribution. 

 Click Here to View the Interactive PDF of the Report.
NLIHC Testimony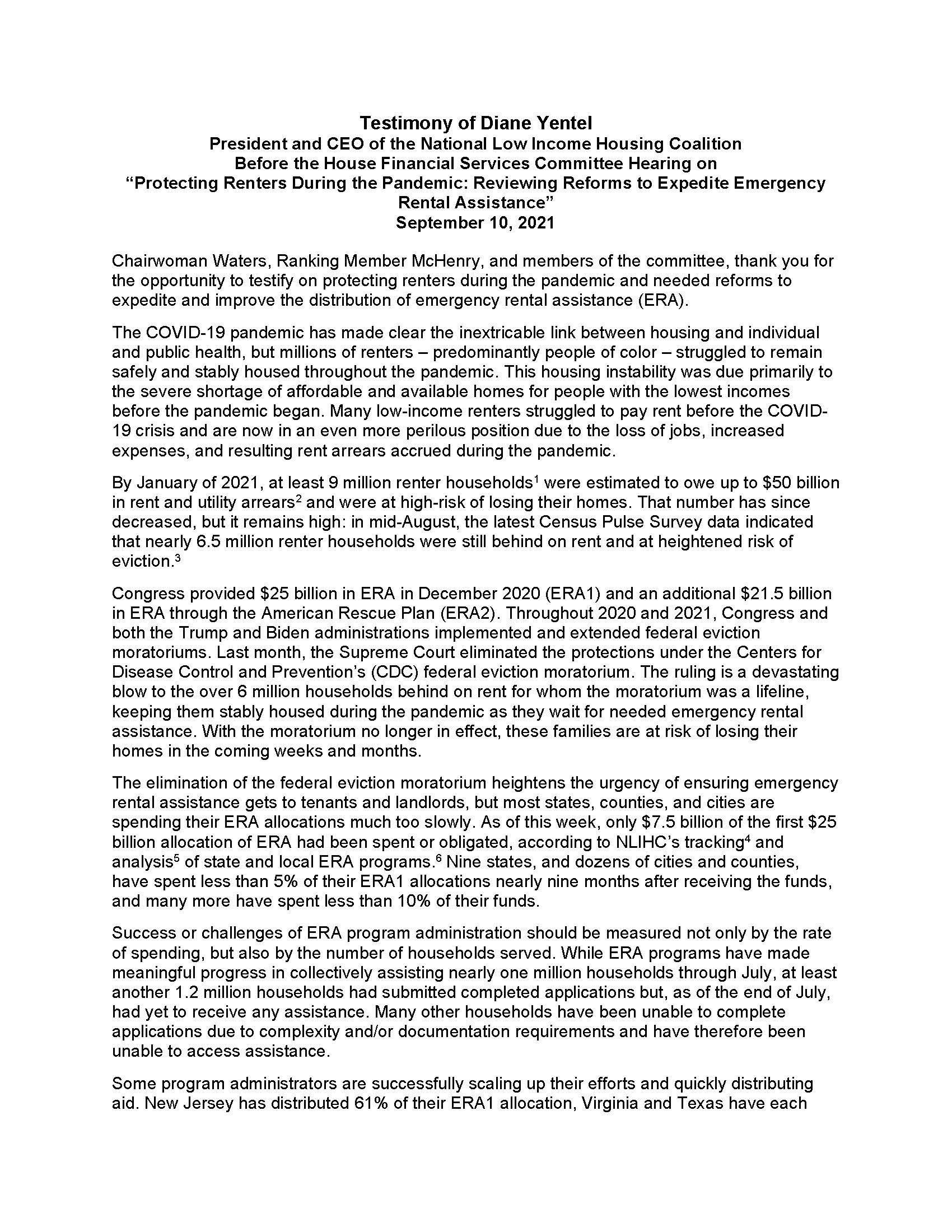 NLIHC President and CEO Diane Yentel testified before the House Financial Services Committee (HFSC) at its September 10 hearing on reforms needed to expedite the distribution of emergency rental assistance (ERA). Shortly after, the HFSC voted 28 to 22 to approve the "Expediting Assistance to Renters and Landlords Act," which would require ERA grantees to accept self-attestation of ERA eligibility from tenants, provide safe harbor to ERA administrators utilizing self-attestation, require direct-to-tenant assistance when a landlord refuses to participate, and provide an additional $50 million to Treasury to conduct outreach and provide technical assistance to administrators. Read Diane's written testimony. 

 Click Here to View the Interactive PDF of the Report.
State Advocacy
Everyone Can Help Ensure that Emergency Rental Assistance Gets to Households in Need
Governors and Mayors. Adopt the state and local policies that support emergency rental assistance distribution and tenant protections provided in the ERASE Checklists.
Program Administrators. Ensure that your ERA program is accessible, streamlined, and low barrier. Use Treasury Guidance and avoid layering on additional requirements.
State and Local Courts. Utilize ERA to support eviction prevention and diversion efforts. Communicate with your ERA administrator.
State and Local Coalitions. Encourage your state and local administrators to implement program flexibilities and best practices into your local ERA programs. Send letters and written guidance, convene stakeholders, including tenants and other state and local coalitions to add their voice to the effort. Track and monitor program and eviction data.
Tenants and Low-Income Renters. If you have received ERA, share your experience. Assist neighbors and friends who might be in need.
For more information, contact Sarah Gallagher, ERASE Senior Project Director, at [email protected].